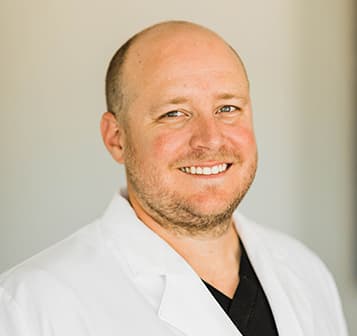 Dr. Barnes loves building relationships with patients and having a career that allows him to work with his hands. After completing his bachelor's degree at Oklahoma City University, he attended the University of Oklahoma College of Dentistry. After completing his dental degree, he continued his education at the University of Oklahoma with Advanced Education in General Dentistry. During this time, he received an award for the Best Clinical Skills. Dr. Barnes particularly enjoys focusing on cosmetic dentistry and dental implants. 
Dr. Barnes was born and raised in Lawton, Oklahoma where his parents still reside. When he's not working, he enjoys spending time with his adopted racing greyhound, Goose, working out, homebrewing beer, and dreaming of being good at golf. He shares, "you can usually find my golf balls two fairways to the right." He also volunteers his time at the Oklahoma Mission of Mercy.

He is married to Maggie, who is the founder of Live Boho in Oklahoma City,  and together they have three children, Lilly, Lainey, and Beau.